m

(9 intermediate revisions by the same user not shown)
Line 1:
Line 1:
−

{{Infobox_character|name = Zoë|species = Human|gender = Female|job = *Actress|image = Zoëcropped.png|age = 12 (presumed, at the time <i> [[Mr. Peanutbutter's House]] aired)|family = *[[Zelda]] (twin sister)|voice = [[Wikipedia:Kelen Colman|Kelen Colman]]}}

+

{{Infobox_character|name = Zoë|species = Human|gender = Female|job = Actress|image = Zoëcropped.png|age = |family = [[Zelda]] (twin sister)|voice = [[Wikipedia:Kelen Colman|Kelen Colman]]}}

 

[[File:Pumpkin carving scene.png|thumb|219x219px|Pumpkin carving scene from [[Mr. Peanutbutter's House|''Mr. Peanutbutter's House'']]'', ''presumably a Halloween episode]]

 

[[File:Pumpkin carving scene.png|thumb|219x219px|Pumpkin carving scene from [[Mr. Peanutbutter's House|''Mr. Peanutbutter's House'']]'', ''presumably a Halloween episode]]

−

[[File:Zoë and Zelda Pumpkins model sheet.jpeg|thumb|220x220px|[[Zoë]] and Zelda pumpkin model sheet|link=https://bojackhorseman.fandom.com/wiki/File:Zo%C3%AB_and_Zelda_Pumpkins_model_sheet.jpeg]]'''Zoë '''is a minor, fictional in-universe human character in ''[[BoJack Horseman]].''

+

[[File:Zoë and Zelda Pumpkins model sheet.jpeg|thumb|220x220px|[[Zoë]] and Zelda pumpkin model sheet|link=https://bojackhorseman.fandom.com/wiki/File:Zo%C3%AB_and_Zelda_Pumpkins_model_sheet.jpeg]]'''Zoë '''is a minor, fictional in-universe character in ''[[BoJack Horseman]].''

 
 
−

== Background ==

+

== ==

 
⚫
⚫
 
 
 
 
⚫
⚫
 
−
 
⚫
 
−
 
−

== Design ==

 
⚫
 
 
 
 

She wears a white collared button-down shirt with long sleeves, a teal button-down vest with darker teal side panels, a purple and light teal mini skirt with a mermaid scale pattern on it, a pair of black leggings, white socks, and dark blue shoes with darker blue trim and Velcro straps.

 

She wears a white collared button-down shirt with long sleeves, a teal button-down vest with darker teal side panels, a purple and light teal mini skirt with a mermaid scale pattern on it, a pair of black leggings, white socks, and dark blue shoes with darker blue trim and Velcro straps.

Line 17:
Line 12:
 

Both girls dressed in similar fashions to the twins on ''Sister, Sister''; especially the earlier seasons.

 

Both girls dressed in similar fashions to the twins on ''Sister, Sister''; especially the earlier seasons.

 
 
 
+

== Personality ==

⚫
 
 
⚫
 
+
 
+

== Background ==

 
⚫
 
+
 
⚫
 
 
 

== Trivia ==

 

== Trivia ==

 

* She and her sister are heavily based on Tia and Tamera of ''Sister, Sister''.

 

* She and her sister are heavily based on Tia and Tamera of ''Sister, Sister''.

−

** The phenomenon of asking if one is a "'''''Tia''' or '''Tamera'''''", who had opposite personalities, is similar to asking if one is a "[[Zoë|''Zoë'']]'' or '''Zelda'''''"

+

** The phenomenon of asking if one is a "'''''Tia''' or '''Tamera''''', who had opposite personalities, is similar to asking if one is a "[[Zoë|''Zoë'']]'' or '''Zelda'''''"

 

* Nothing is known about the girls' real lives or what happened to them after [[Mr. Peanutbutter's House|''Mr. Peanutbutter's House'']]'' ''ended

 

* Nothing is known about the girls' real lives or what happened to them after [[Mr. Peanutbutter's House|''Mr. Peanutbutter's House'']]'' ''ended

−

* They are referenced many times mainly in regards to categorizing people's personality types. 

+

* They are referenced many times mainly in regards to categorizing people's personality types. 

 

[[Category:Characters]]

 

[[Category:Characters]]

 

[[Category:Minor characters]]

 

[[Category:Minor characters]]
---
Revision as of 15:16, 9 March 2020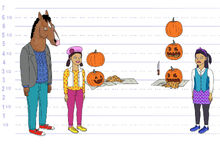 Zoë is a minor, fictional in-universe character in BoJack Horseman from the show Mr. Peanutbutter's House.
Physical Appearance
Zoë is a human girl who wears her dark brown hair in a half-up, halfway down type hairstyle and a dark purple hair ribbon. She has dark pink lips.
According to the model sheets, she is slightly above 4 1/2 ft. tall.
She wears a white collared button-down shirt with long sleeves, a teal button-down vest with darker teal side panels, a purple and light teal mini skirt with a mermaid scale pattern on it, a pair of black leggings, white socks, and dark blue shoes with darker blue trim and Velcro straps.
Both girls dressed in similar fashions to the twins on Sister, Sister; especially the earlier seasons.
Personality
She is the cynical and intelligent sister, the one with a negative outlook on life.
Background
Zoë is one of the main characters in Mr. Peanutbutter's House and is often accompanied by her twin sister Zelda.
Little is known about her real-life persona or what happened to her or Zelda after Mr. Peanutbutter's House ended.
Trivia
She and her sister are heavily based on Tia and Tamera of Sister, Sister.

The phenomenon of asking if one is a "Tia or Tamera," who had opposite personalities, is similar to asking if one is a "Zoë or Zelda."

Nothing is known about the girls' real lives or what happened to them after Mr. Peanutbutter's House ended
They are referenced many times, mainly in regards to categorizing people's personality types.