"
You can live your happy Zelda life in this happy Zelda town, and pretend you're a happy Zelda. But I know you, and this isn't you. People don't change, Diane, not really.

Mr. Peanutbutter's a Zelda. He's happy and he's carefree and he's loving. But you and me, we're Zoës. We're Zoës, Diane. We're cynical and we're sad and we're mean. There's a darkness inside you, and you can bury it deep in burritos as big as your head. But someday soon this darkness is gonna come out, and when it does, I want you to call me.

"

—Wayne to Diane Nguyen
​
Wayne is a minor and recurring character in BoJack Horseman. His first appearance was in Zoës and Zeldas, in Season 1.  
Physical Appearance
Wayne is an adult African-American male. He has short black hair and a beard and wears glasses. He wears Hipster style clothing a red and blue plaid button-down shirt, purple bow-tie, and black suspenders.
In 2007 his look is similar to his present-day one. He wore a yellow and hot pink plaid shirt, dark green suspenders, and the same purple bow tie and dark purple trousers. His hair was also more curly back then and he had black stubble on his face.
Personality
Wayne can not see past the flaws of other people, and he also believes people can not change, at least fundamentally. This is one of the reasons why Diane broke up with him in the first place.
In an attempt to wake Diane up from her situation, he tells her she will never be happy in a "Zelda" town because she's a "Zoë" just like him.
Wayne sees himself as a better romantic partner choice than Mr. Peanutbutter because of this. He then tells her, to contact him, when she realizes that for herself; that eventually the darkness will come out of her.
Diane gets irritated by this, as she does not like having a label put on her.
Background
History
Wayne is a writer for Buzzfeed and Diane's ex-boyfriend who she dated in the late 2000s. He is assigned to write an article on Mr. Peanutbutter which ends up being less than flattering.
It turns out he actually finished the article a long time ago and was just trying to get close to Diane and just pretending to work on the article still.
In Zoës and Zeldas, BoJack and his group attend A Roast of Gloria Steinem, where they ask each other if they're a "Zoë or Zelda" (a pair of twin sister characters with opposite personalities on Mr. Peanutbutter's sitcom).
When asked of Todd, BoJack remarks that Todd is neither, and disdainfully reminds Todd of his freeloading.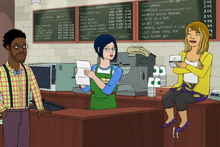 Diane's ex-boyfriend Wayne had followed Mr. Peanutbutter around since the roast, claiming he is writing a BuzzFeed article featuring Mr. Peanutbutter.
Instead, he had simply been trying to reunite with Diane, claiming they were good for each other. Using the "Zoë or Zelda" comparison for personalities, Wayne claims Diane has the same personality as he does, and is incompatible with Mr. Peanutbutter no matter how much she denies it.
Wayne tells Diane when the darkness inside of her comes out, she should call him. Diane gets frustrated with this, as she does not like a label put on her.
In the episode One Trick Pony, Diane had finally completed the first draft of BoJack's memoir, One Trick Pony. An excited BoJack receives a copy to read for himself during the middle of shooting but turns on Diane after finishing. Feeling the majority of the book painted him in a bad light, BoJack refuses to listen to Diane's explanation, that she is honoring their agreement from before to tell his story "warts and all" and how his vulnerability would help connect him to readers.
An angry BoJack orders Diane to rewrite the book, to which Diane spitefully decides to leak the first few chapters of the book, through her BuzzFeed friend Wayne. When shooting of the film is canceled, BoJack is shocked, when the filming crew begins to laugh at the personal details of his life. 
He quickly learns about the leak and confronts Diane again. She explains, the leak was a calculated move, and points out that many people love BoJack, from reading the chapters—and the unreleased book is gaining lots of attention. Despite this, BoJack simply fires Diane. 
Relationships
Trivia
His surname has not been revealed.
Wayne's gibberish notes discovered by Diane say the following: xxzzzicchxopyzz fojseiixxxospjgoooifxztioeiojfooejjpipoisonxxffefxqefqwberryyyKdfjpifffheeAustraliazxxolwhoareyou,;;Burg dianeiloveyouleavethatdumbdogalreadyyysgooseberrytartfffdisastrism4evrr779//ioioidjrrivefwewiidvjjvdfkssksiidviiffttziftyIamtypingtypingtypinggg'sretrelyyiyoonoo"llhisfh63endso39'don'treally.tivandwhllneetoislentllhisalotmoreexwl'tLFG>/yuuwtsupposerrdsaiffliuoutheti
Community content is available under
CC-BY-SA
unless otherwise noted.