Wallace Shawn
is a minor character in
BoJack Horseman
based on the real-life actor Wallace Michael Shawn of the same name. His most prominent appearance was in
One Trick Pony
,
in
Season 1
.
Physical Appearance
Wallace Shawn is a balding grey-haired human man with signs of wrinkles on his face who wears a yellow turtleneck, grey jacket, pants, and shoes.
According to the model sheets, with the horse mask, he is roughly slightly above 6 1/2 ft tall.
To portray BoJack Horseman in Mr. Peanutbutter's Hollywoo Heist, he is seen wearing a horse head mask with a cutout for his face, an unbuttoned gray jacket with a blue sweater underneath, cyan blue jeans, and red and white sneakers the same outfit that is BoJack's everyday attire.
Personality
Wallace Shawn is an exaggerated version of his real-life counterpart.
Background
Wallace Shawn appears in One Trick Pony.
He plays the role of BoJack Horseman in a movie called Mr. Peanutbutter's Hollywoo Heist. This movie is an adaptation of Our A-Story is a "D" Story.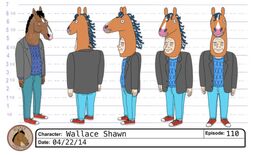 The movie actually goes through several wacky changes, and the finished product isn't even a movie, it's a gift basket.
Trivia
The real-life actor Wallace Shawn is best known for roles such as Vizzini in the movie The Princess Bride or Rex in the Toy Story franchise.
He collects Rothko paintings and describes himself as being addicted to buying them.
Community content is available under
CC-BY-SA
unless otherwise noted.