So one of the first things we ever learned about Beatrice was that she is the heir to the Sugarman Sugarcube fortune/Company.
But the thing is, did she actually inherit it?
I mean, the sugar wrapper BoJack holds in S4E2 says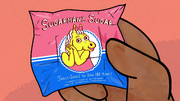 "Currently owned by the Fukusaka family of International Conglomerates" (not even sure what that is lol). So did Beatrice not inherit the fortune? BoJack never even mentions owning it.
He did say that she "was" the heiress, so was Beatrice not allowed to inherit the Factory because she got pregnant by Butterscotch, a commoner? Or was it because she was a woman and her father was incredibly misogynistic. Or was it because 10 or so years before her father died her son became a famous sitcom actor and even before that Butterscotch got a very well paying job for the Sugarman Sugarcube Company (so Joseph probably wasn't that against their union if he'd offer him a job multiple times) so she just lived off that money? And she just called herself an heiress to make herself seem important to other people, since her life and beauty were ruined by an unplanned pregnancy and she either couldn't inherit a Factory due to her gender or lost the rights to inherit her fortune due to her affair with someone a lower class than her?
Comment below What u guys think
Community content is available under
CC-BY-SA
unless otherwise noted.