Wiki Targeted (Entertainment)
Play Sound
Sissy Stilton is a one-time character in BoJack Horseman. He is the son of Poppy and Mimi and is Ralph and Stefani's, brother.
His first appearance is in The Judge, in Season 4. He makes a cameo in A Horse Walks Into Rehab, in Season 6.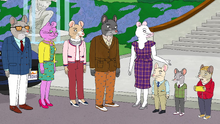 Personality
Sissy seems to be very kind to Princess Carolyn, although he actively took part in the "Feast of St. Squeaky" ritual. Little else is known about him.
Physical Appearance
Sissy is an adult male gray mouse. He has a light gray patch around his mouth and has a pink snout and spectacles perched on his nose.
According to the model sheets, he's 5 1/2 ft tall.
He wears a beige business shirt with a red and white polka-dotted handkerchief with a brown coat on top, orange pants with small blue bird patterns. He also wears white and brown point loafers with black laces and brown soles.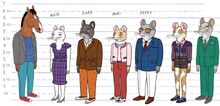 Background
In The Judge, Sissy is introduced by his mother when Princess Carolyn comes to greet Ralph's family.
The Stilton family and Princess Carolyn are eating for the Feast of St. Squeaky. Princess Carolyn expresses how much she's enjoyed her stay, and Ralph's father says they love having her. He announces to let the festivities begin and tells a relative to hand out the cat ears. As this happens, Ralph explains the feast is meant to remember the ancient tale of a brave mouse named St Squeaky and how he defeated the tyrannical cat King Puss Puss.
The family begins to sing a song about said cat king, saying how dumb, smelly, and evil cats are, and how St. Squeaky defeated him by stabbing him in the belly. Princess Carolyn whispers to Ralph that she wishes he told her the family was anti-cat, and Ralph tries to explain the song is just about one bad cat, not all cats. A relative shouts "Death to all cats!" Princess Carolyn is of course offended by this and leaves.
In A Horse Walks Into Rehab, at Pastiches Malibu, he is seen in the painting room painting a vase in the montage.
Trivia
He appears to have gone to rehab, as seen in the montage in A Horse Walks Into Rehab.

It is unknown as to why he went to rehab.
Community content is available under
CC-BY-SA
unless otherwise noted.