"
...My life is a mess right now, and I compulsively take care of other people when I don't know how to take care of myself.
"

—Princess Carolyn, Out to Sea
"
Aw fish!
"

—Princess Carolyn's catchphrase
Princess Carolyn is an anthropomorphic pink Persian cat and one of the main characters throughout the BoJack Horseman series. She is BoJack Horseman's ex-girlfriend and former agent.
She worked as a talent agent for Vigor before leaving and starting her own agency, VIM, which she eventually had to close, but reopened as a management company.
She served as the producer for Philbert in Season 5.
Physical Appearance
Princess Carolyn is an anthropomorphic female Persian cat. She has pink fur, with a curl of pink hair on her head. She has green eyes with bags under them and long black whiskers. According to model sheets, she is only about 4'9" tall when barefoot and 5'1" in heels.
She wears a knee-length teal green dress with a yellow fish pattern on it and a grey belt around the waist, a yellow sweater, a gold necklace with a gold pendant with a red dot in the middle, and red high heels.
In 2007, she wore a blue and white striped short-sleeved cropped shirt, a light wash denim mini skirt with a yellow circle belt buckle, a cropped brown button down jacket, and pink fur-lined Ugg boots with white pom-poms dangling from them, along with a white fedora with a blue and white horizontal striped ribbon on the brim outdoors.
In the mid-late 90s, after she started working for Marv at Vigor in 1993, she had a "Rachel" style hairdo—a shoulder length bob with layers and long, parted bangs that framed her face, and it was a darker shade of pink. She wore a yellow vest over a sleeveless black top, a green skirt with a white and yellow plaid design, and black platform shoes.
As an eighteen-year-old teenager in 1992, she didn't have bags under her eyes, her eyebrows were a little thicker (which may be makeup), and her hair was in a styled back fashion.
She wore a cropped magenta pink sweater, high waist, knee length, light blue jean shorts with a black belt, white sneakers, and her necklace, which her mother gave to her before she left for California.
In The Amelia Earhart Story, she is briefly seen as a little girl with her hair in curled bangs similar to her mother and wearing a long-sleeved purple shirt.
Personality
Princess Carolyn is the earnest, clever, hard-working agent. She often finds herself forced to choose between prioritizing her career and her relationships. She almost compulsively starts relationships with men without much foresight, which often leads to complications in her relationships.
BoJack notes that she does this because she is lonely.
Due to the nature of working in Hollywoo show business, Princess Carolyn can be stubborn, sweet talking, and even manipulative when it comes to making deals or convincing people to agree with her and getting what she wants.
However, she does have a good-natured and considerate side to her.
Throughout her teen years Princess Carolyn would have to cover for her alcoholic mother at her job as a live-in maid for a wealthy family. This and her favorite movie as a child, The Amelia Earhart Story, which gave her the belief if you really want something you have to work hard and convince others you deserve it, gave Princess Carolyn her workaholic attitude.
Princess Carolyn takes pride in her work and loves her career as a talent agent despite its frustrations. She claims to separate her personal life from her professional life, but she is shown to have at least a little difficulty in doing so.
She tries to pep talk herself into staying career motivated after BoJack breaks up with her, because of his constant intrusion into her work and personal lives, makes it difficult for her to separate the two from each other.
Princess Carolyn shows a pretty no-nonsense attitude towards BoJack, does not put up with his crap, and often calls him out on his mistakes.
The two of them seem to share a long history and have known each other a good while, both romantically and professionally. As a result of their long history, she can also see the good qualities in BoJack such as his love of art and his potential to be a decent person if he puts his mind to it.
Princess Carolyn admits that she compulsively takes care of others, despite her own life being "a mess," and it is shown she gains satisfaction, pride, and a sense of purpose from helping others and fixing their problems.
She believes she can fix anything with hard work and "always lands on her feet." She aims to turn her problems into happy endings. As such, Princess Carolyn tries to meet problems with optimism, and avoiding help from others when it comes to her personal problems—as she wants to be seen as "easy." She also doesn't want to show her weakness, insecurities, or vulnerabilities due to her reputation of being able to do anything.
Despite saying that she wants a "quiet life," she actually loves the excitement of her career-oriented life as a talent agent and wouldn't trade it for anything, despite the stress. When she is seen looking at a beautiful painting of a cottage in a museum, she has a fantasy she is living inside the painting, with her rival Vanessa Gekko being her maid in the fantasy world—she quickly grows bored and realizes an idealistic, quiet country life is simply not for her due to her competitive nature.
Princess Carolyn greatly desires a family of her own, including children, as indicated in Season 4. For the first half of the season, she tries to get pregnant, but fails due to being infertile. This problem with fertility has persisted since at least her late teens, as demonstrated by the five miscarriages she had between the ages of eighteen and forty-four.
Ironically, Princess Carolyn already serves as a mother figure to the main characters, often solving their problems and putting their needs before hers, whether she wants to or not—something she has been shown to struggle with. Ralph, Judah, and BoJack have all told Princess Carolyn that she has the potential to be an excellent mother.
In Season 5, her wish finally comes true when she adopts her daughter "Untitled Princess Carolyn Project."
However, it is evident that motherhood may clash with her workaholic nature, and the importance of her career, as pointed out by Sadie and Tracy.
Background
History
Princess Carolyn was the runt in a litter of twelve and was born on June 6, 1974. She was born and raised in Eden, North Carolina.
Princess Carolyn came from a very poor family. Her mother, Cutie Cutie Cupcake, was a live-in maid for the Wallace family, a wealthy family in the answering machine tape business, and she and her children stayed in a room above their garage.
However, as Princess Carolyn got older, she would often have to do most of the work herself—as Cutie was an irresponsible alcoholic, and was usually too drunk to do any work. By the time she was a teenager the rest of her siblings had long since moved out, making her feel like she had to stay as she was all her mother had left. Her father was separated from Cutie and lived in Raleigh.
Princess Carolyn's favorite movie as a little girl, and the only VHS tape her family owned, was The Amelia Earhart Story. She loved this movie so much she knew the dialogue by heart. She watched it so much the tape began to wear out, as it helped her escape from her poor living conditions. This movie, along with having to cover for her drunk mother, so they wouldn't be homeless—factored into Princess Carolyn's workaholic personality. It also strengthened her persistent attitude and the belief you must work and try hard to get what you want.
As an eighteen-year-old teenager, she befriended the Wallaces' teen son, Cooper Thomas Rodgers Wallace III, and the two were involved in a romantic fling one day after Cooper becomes the first string quarterback for his football team after Princess Carolyn encouraged him to try out.
That same night, she and her mother got in a fight about Princess Carolyn wanting to go to California for college, one of them being UCLA. Cutie drunkenly warned Princess Carolyn to not aim too high for your dreams and berated her for wanting to leave her, mocked her for thinking she could get into one of those schools and find a way to pay for it.
She told Princess Carolyn, "life is like a game of roulette" and she needs to stop believing she has lucky numbers, attempting to crush her aspirations of a better life away from poverty.
Princess Carolyn accidentally gets pregnant by Cooper, to her dismay, believing her life was over. However, her mother reacted positively, telling Princess Carolyn the Wallace family will now support them for the rest of their lives after she marries Cooper. She then gives her daughter her necklace, telling her it came from the old country, and that when she looks at it she should remember she came from "a line of strong women who can take a licking and keep on ticking."
She meets with Cooper and his father later that night and he tells her she'll marry Cooper, and she'll be financially and emotionally supported for the rest of her life—albeit with the entirety of her life planned out for her, which she seemed to have no problem with.
Unfortunately, Princess Carolyn miscarries, and her mother blames her for ruining their plan. As Princess Carolyn sobs over this, her mother comforts her by telling her she's free, and reveals to her she got accepted into UCLA.
As Princess Carolyn and her mother said goodbye to each other at the airport, her mother at the last minute begged her daughter to stay home for another year, pleading "Can't you do this one thing for me?," when all Princess Carolyn ever did was cover for her. Princess Carolyn refuses, devastating her mother, and she leaves to attend UCLA.
Princess Carolyn started at Vigor Talent as an intern for BoJack's agent, Marv, in 1993, in order to pay for college.
She first met BoJack Horseman when she had to drop scripts off at his house. She found him on his front lawn passed out and covered in tapioca pudding. She hosed him down, dragged him inside and covered him with a blanket.
The second time she met him was after a taping of Horsin' Around. She went backstage to introduce herself, but he told her that he was tired from pretending to be nice all night, and to leave him alone.
The third time she met him was when BoJack went to see Marv at his office. He saw Princess Carolyn at her desk and thought she was cute. She greeted him and said "Hey! It's nice to see you again!"
She attended BoJack's Halloween party in 1993, where she was put on door duty and handed out Emmy screeners to trick or treaters, which would happen to her every year at said party, where she would always dress as Amelia Earhart.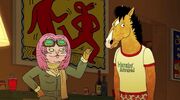 She eventually became Marv's secretary and assistant. In 2007, Marv quit, giving Princess Carolyn his position. This made her BoJack's agent, whom she started an on again/off again relationship with at that time. She broke up with BoJack after becoming his agent, because she wanted to have a family before she was forty, and she didn't want to spend the next seven years waiting around for him to be serious about starting a family.
However, she sleeps with him again after she goes to his house to comfort him after his new show, The BoJack Horseman Show, is a failure. She woke up before him early the next morning, and she said: "Don't you break my heart, BoJack Horseman."
At one point they go to the Bahamas together for vacation, and BoJack gives her a bracelet for her thirty-eighth birthday.
She rose to be one of Vigor's top agents through her dogged pursuit of new talent, a large network of personal connections to other agents, and skill for being in the right place at the right time.
She also has a lot of nieces and nephews. She attended a niece's wedding in Chickens.
Her father passed away sometime before 2007-2014.
Her mother also died sometime before 2014, which was the last time Princess Carolyn went back to Eden until 2018.
In Season 1 she is introduced as BoJack's agent and on again off again relationship (typically a sexual and romantic one) with BoJack, stating she's able to separate her work life from her personal life.
She is usually seen calling BoJack from her office, typically when he does something stupid, and attempts to help him fix the situation.
In Prickly-Muffin, it is learned she has a rival named Vanessa Gekko. After hearing Sarah Lynn fired her agent, Princess Carolyn goes to BoJack's house, where Sarah Lynn is staying and is throwing wild parties as she does so, and subtly tries to get her to be her client while dressing and trying to act young and cool.
However, she apparently inadvertently made Sarah Lynn want to ask Vanessa to be her agent, and Sarah Lynn thanks her for it. Despite this, Princess Carolyn apparently planned this, as she tells her assistant to get the word around that Andrew Garfield's ex, Sarah Lynn, was meeting with Vanessa Gekko, who is also his agent and to get her a meeting with him.
She also signs Todd Chavez as her client in Zoës and Zeldas, and assists him with his David Boreanaz scheme in Live Fast, Diane Nguyen, although she abandons him when the cops arrive.
Say Anything gives Princess Carolyn more focus. She gives BoJack a pep talk after he goes on a week-long bender due to his dismay over Diane's engagement to Mr. Peanutbutter, and books him to shoot a commercial for Guten Bourbon. Things are coming together for Princess Carolyn's upcoming Eva Braun movie project until her agency Vigor merges with rival agency FME.
Her longtime rival from FME, Vanessa Gekko, begins to share Princess Carolyn's work space due to the sloppy merger. She also begins to take over Princess Carolyn's Eva Braun project and her clients.
She is further hindered by BoJack abandoning his commercial shoot and coming to fawn after her, to which Princess Carolyn points out he does so every time something bad happens to him. However, she finally relents to a date with BoJack after much pestering, to pursue happiness by going on a date with him.
The two enjoy their date but simultaneously get a phone call. Princess Carolyn is called by Vanessa Gekko, telling her that Cate Blanchett, who was previously Princess Carolyn's client, has switched to become Vanessa's client. Dismayed, Princess Carolyn decides to commit to pursuing happiness with BoJack to take her mind off of her career.
BoJack, meanwhile, is called by Herb Kazzaz, who is responding to BoJack's voicemail from the episode Live Fast, Diane Nguyen. Herb scathingly tells BoJack to visit him at his home in Malibu if BoJack has anything to say to him. The call sobers up BoJack, and he admits to Princess Carolyn that she was right earlier when she said they don't love each other and that they're just lonely and trying to hate themselves less.
Princess Carolyn gathers herself after that evening, swearing to become a "heartless, hard career gal." She is called on the way to work by BoJack, who tells her he is on his way to visit Herb and wishes to get work when he returns. At first, she dismisses him, saying he is not her client anymore, but begins to find him work after finding out Vanessa coldly shredded his contract to drop him.
Princess Carolyn's persistence pays off in the end when she wins back the Eva Braun project from Vanessa, and maneuvers a position for BoJack to star in a new movie project based on the events of the stolen Hollywood "D" from the episode Our A-Story is a "D" Story. When she calls BoJack to tell him of the news later that evening, BoJack simply tells her he doesn't care and that nothing matters before hanging up on her.
Princess Carolyn then dismisses her assistant Laura from work. When asked by Laura if she was heading out soon, Princess Carolyn simply asks back "Where else would I go?" She stares out at the city alone, as realizes she has sacrificed many of her dreams pursuing BoJack who she finds is unattainable to her personally, and he just takes what she does for him for granted. Her phone alarm reminds her it is her fortieth birthday.
In Horse Majeure, BoJack gathers her and Todd to formulate a plan to stop Diane's wedding. Princess Carolyn refuses and begins flirting with Vincent Adultman to both spite and ignore BoJack.
BoJack is the only one who believes that Vincent is three little kids stacked on top of each other in a trench coat, although when he points this out he is passed as just being jealous. She attends Diane and Mr. Peanutbutter's wedding and the Golden Globes and BoJack's after party in Later with Vincent.
In Later, she convinces Lenny Turteltaub to produce the Secretariat film, as BoJack decides he finally wants to do it due to his book's success and the rising fame that came with it, and hires Diane as a character consultant for the film, as she wrote a book on Secretariat and the job will be very easy.
She also goes through a rough patch with Vincent, as he works a full-time job at the business factory, and when he gets home he just wants to unwind by watching R-rated movies.
She then has an argument with Vincent over him only talking about and wanting to do "business" and "adult things" all the time, leaving herself to think she's not ready for an adult relationship yet, and she breaks up with Vincent.
However, he reconciles with her at Mr. Peanutbutter's launch party for Smoodies, telling her that he had an attitude problem, but he then took a timeout and realized it takes a big man to tell the truth, and the truth is that he loves her. She forgives him and the two plan to go to Hawaii together.
In Season 2, she begins to interact with her coworker Rutabaga Rabitowitz, whose office is directly below hers. The two typically talk about their clients, while Rutabaga complains about his marriage and the things his wife, Katie, makes him do.
In Still Broken, she attends Herb Kazzaz's funeral in an attempt to schmooze with the other celebrities there. However, after Henry Winkler turns down some, and then vents to her about people using funerals for business opportunities.
She ends up having to lie about how she knew Herb, and with coaxing from Mr. Peanutbutter has to lie about how they did charity work together. As a result, she is given the responsibility to spread Herb's ashes, which she neglects throughout the rest of the season, as the urn is seen in the back of her car and later in her office.
In After the Party, Princess Carolyn notices a boy crossing the street with his mother that looks just like Vincent. She angrily believes Vincent has a secret family. Later, the boy, named Kevin, stops by her apartment and claims to be Vincent's son. While he steps into the bathroom, Vincent shows up at her apartment as well.
After a few interactions with "both" of them, while the two are never seen together, Princess Carolyn realizes that she was looking for something when they met and wanted to believe their relationship was it. She says that believing something to be real isn't the same as it being real and their relationship isn't, and she breaks up with Vincent.
She is shown to be under-appreciated at work in Higher Love, as her boss Mr. Witherspoon berates her for showing up late and missing the opportunity to snag the now late agent Ronnie Bonito's clients. The only client no one wanted was Mr. Peanutbutter.
However, Rutabaga helps Princess Carolyn and tells her Ronnie had another client no one knew about: author J.D. Salinger, who faked his death and now owns a bike shop. She finds Salinger and convinces him to be her client, and he pitches his idea for a game show to Wanda for MBN: Hollywoo Stars and Celebrities: What Do They Know? Do They Know Things?? Let's Find Out!.
She green lights the show and casts Mr. Peanutbutter as the host as his big comeback role. Despite two big successes in one day, Princess Carolyn receives no praise whatsoever from her boss nor coworkers, as once again her actions go completely unnoticed.
She confides in Rutabaga over her frustrations. He then gives her the movie star speech which he offered to give her earlier, the is the part of the movie where the world turns its back on her and she gets her heart broken, but this part of the movie has to happen in order for her to deserve her happy ending. The speech appears to give Princess Carolyn some hope. Rutabaga then reveals to her he thinks he and his wife Katie are getting a divorce.
In The Shot, Rutabaga offers Princess Carolyn to leave Vigor with him and start their own agency. Princess Carolyn is reluctant, as she's worked at Vigor for twenty years—she even still waters their plants, and things have been "crazy" for her.
Rutabaga gives her time to think about it, but he says if she's not interested he'll just go ask Vanessa Gekko to do it with him. Princess Carolyn is dragged into BoJack's plan to break into the Nixon Library to film a cut but crucial scene for Secretariat with Kelsey.
She, Todd, Allen the cable repair guy, and Character Actress Margo Martindale break into the art store down the street to create a diversion.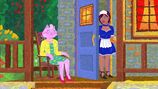 While Margo Martindale gets into a shooting spree with the police, Princess Carolyn is distracted by a calm, serene painting of a cabin in the woods. After imagining living a calm life in the painting, with Vanessa Gecko as her servant, and becoming bored with it—she realizes that if she wanted a simple life she'd have a simple life. The next day, she accepts Rutabaga's offer before she kisses him in the elevator, starting their romantic/sexual relationship.
Rutabaga purchases the property for their new agency in Yes And, and he tells Princess Carolyn that it'll be ready in June, giving them two months to move out of Vigor. He had to register their new corporation in her name because of his divorce, to her surprise, but he promises it's only temporary.
Mr. Peanutbutter interrupts them and Princess Carolyn tells him about how they are leaving Vigor and starting their own agency. She asks if he'd go with them to the new agency and Mr. Peanutbutter says he's in. Earlier in the episode, she asks BoJack if she left Vigor would he follow her to a new agency, and he agreed.
In Out to Sea, Princess Carolyn visits BoJack and chastises him for not being able to contact him for two months (as he ran away to New Mexico during that time), and she tells him she did what he told her and gave his Horsin' Around residuals to an orphanage In fact he had enough money to build a brand new orphanage, and the two of them go to the opening.
Later, Princess Carolyn and Rutabaga go visit the location where they're going to open their agency. Just when Princess Carolyn believes everything is perfect, Rutabaga's wife texts him, and Princess Carolyn learns that they are trying to work things out even though she and he have been sleeping together for the past three months. Rutabaga tells her that nothing has to change because he is definitely gonna divorce her.
Princess Carolyn hires Diane, who was in a slump and had been sleeping on BoJack's deck for two months, as a celebrity Tweet ghostwriter. When Diane asks her why she's helping her, Princess Carolyn says that it's because her life is a mess right now so she compulsively takes care of other people because she doesn't know how to help herself.
As Princess Carolyn and Rutabaga leave Vigor forever, Rutabaga tries to kiss Princess Carolyn in the elevator, but she tells him that she doesn't want to do that anymore.
Rutabaga tells her she's a single woman in her forties so she shouldn't be picky and probably won't find another guy like him, and if she keeps holding out for something better she's gonna be alone for a long time. Princess Carolyn says with the realization she's not afraid of being alone, and she refuses to let Rutabaga with her, as she's the owner of the company.
In Season 3, Princess Carolyn is running VIM on her own, and she has a new assistant, Judah Mannowdog. However, she quickly begins to struggle with her new leadership role. She is flustered with keeping track of clients, calls, and meetings she has to make, as seen when she's late to a conference call with BoJack and Ana and J.D. Salinger and Pinky Penguin respectively, much to the annoyance of both groups.
J.D. Salinger drops her as his agent, believing her to be unprofessional, to Princess Carolyn's dismay, and before that, he decided to cancel his show Hollywoo Stars and Celebrities: What Do They Know? Do They Know Things?? Let's Find Out!, leaving Mr. Peanutbutter out of a job. Judah tells a stressed Princess Carolyn that he'll take up more responsibility, but that they need to focus on the clients that they already have, which Princess Carolyn thinks is a great idea.
She then calls Mr. Peanutbutter and asks him what he's going to do now that his show was canceled. He says that he was planning to take time off, but Princess Carolyn tells him to come up with new ideas and go get the money. Mr. Peanutbutter takes her advice and reopens PB' Livin.
In BoJack Kills, she helps out Mr. Peanutbutter and Todd after they get sprayed by a skunk.
In Love And/Or Marriage, Princess Carolyn gets the night off, and she jokingly tells Judah to get her three dates for the evening, as she doesn't know when her next night off will be. Judah, who admits he's bad at detecting jokes, actually gets her three dates, One at 7:00, one at 8:30, and one at 10:00. She asks him to reschedule two of them because she was joking, but he says it's going to be a really long time until she gets another day off, so she reluctantly decides to go along with it.
Her first date is a total bore and only talks about his job in auto glass, her second date, who is an albino rhinoceros, starts well until he tells her she's too old to have kids. When she angrily questions how he knows that, he tells her he's a gynecologist.
Princess Carolyn is about ready to give up when her next date arrives, a mouse named Ralph. They laugh at the irony, and when Princess Carolyn is about to leave, Ralph offers to take her to another restaurant that does a great cheese plate, and she agrees.
The two have a great time together and laugh as they walk together to her car. However, Princess Carolyn doesn't know when she'll be able to see him again, as running VIM doesn't give her a lot of nights off. He accepts but still gives her his number, saying whenever she is free to give him a call and kisses her on the cheek.
Princess Carolyn arrives at her office to find Judah there working. He tells her he prepared their agreement, and he filled out the holiday cards with personal sayings, all she has to do is sign her name. Princess Carolyn sits down to fill out the cards, and she notices a card addressed to Judah saying how she appreciates him.
In Brrap Brrap Pew Pew Diane, who recently discovered she's pregnant and is getting an abortion, accidentally tweets out as pop star Sextina Aquafina "I'm getting an abortion." Princess Carolyn tells Diane at her office the next day that VIM is hanging by a thread and clients like Sextina are all that's keeping it afloat. Sextina arrives and wants to fire Diane, but after Diane discovers Sextina is trending and getting support from celebrities and social media outlets for her bravery,
Sextina decides to go along with the lie, and Princess Carolyn supports her. After she releases a raunchy song and video and announces she'll have her abortion live on pay-per-view TV, which she and Princess Carolyn tell Diane they'll fake and pre-record and edit to look like it's live Diane decides the whole thing has gone too far. Princess Carolyn angrily tells her it's what Sextina wants and to stop making the whole situation about herself.
She says she's tired of her creating problems and sarcastically pities her for having a husband and being able to have children, which may be two things that are not possible at her age. Sextina figures the conversation isn't about her anymore and begins to leave.
Princess Carolyn and Diane later watch Sextina's "abortion" on television at the former's apartment. The two are surprised at how tasteful an informative it actually was. Princess Carolyn asks Diane how she's feeling, and she says she feels shitty but that she's glad she did it. However, she felt old when she did it because all the other women there were teenagers and women in their early twenties, and she should feel ready to have kids, but Princess Carolyn cuts her off and sternly tells her she shouldn't have to explain anything to anyone.
Princess Carolyn gets a call from Sextina who tells them that she's been having a lot of sex, as dolphins have sex for pleasure, and she just found out she got pregnant for real, and she thinks she wants to keep it. However, this will confuse her fans as they just saw her get an abortion.
Princess Carolyn tells her to meet them at her office in twenty minutes. She and Diane then come up with a perfect plan to hide Sextina's pregnancy—they'll film a bunch of videos right now and release them over the course of a year to keep her relevant, in the meantime Sextina can go to a farm where celebrities disappear before she starts showing, and when she returns she can say she adopted her baby.
In Stop the Presses, she is present at the meeting with BoJack, Ana, Lenny, and Diane for Secretariat's "For Your Consideration" ads.
In Old Acquaintance, she wants to get BoJack cast in the new David Pincher film Flight of the Pegasus. However, Rutabaga and Vanessa want their client for the role. Both agencies need to land this gig because neither of them is doing well. Princess Carolyn in the process reaches out to her old assistant, Laura, to put in a good word for BoJack, because she apparently put in a good word for Laura to get promoted.
In the meantime, BoJack's old Horsin' Around costar Bradley wants to do a reboot called Ethan Around, and doesn't know how to turn him down, and Charley Witherspoon talks to Judah about an offer, and he says he'll tell Princess Carolyn at a later time. Rutabaga and Vanessa then contact Kelsey Jannings to ask BoJack to star in her movie to secure funding.
He decided he would rather do that then the Pegasus movie, but Princess Carolyn says she can try to get him both. Laura later calls Princess Carolyn and tells her BoJack has the part. Laura calls Princess Carolyn and tells her that BoJack has got the part. Vanessa then calls Princess Carolyn to sign the deal for Kelsey's movie. Princess Carolyn, confident with her success, tells her that she has to work around his Pegasus schedule, or Kelsey with have to offer more money, which she doesn't have.
This upsets Vanessa, and warns Princess Carolyn she's overplaying her hand. Princess Carolyn hangs up, frustrating Vanessa. However, Rutabaga bursts in the room announcing he's found something by looking through old emails that'll blow the situation wide open. He hands Vanessa a sheet of paper, and she reacts positively to what's on it.
Laura calls Princess Carolyn and tells her that BoJack is no longer going to be in the Pegasus movie, and claims she did everything she could. As Laura does this, she sits across from Vanessa, having shown her the piece of paper Rutabaga gave her earlier, an email from Princess Carolyn saying not to promote Laura so she can keep her as an assistant.
Kelsey calls BoJack Kelsey calls BoJack, and angrily tells him his agent kept demanding more money, and the option for the movie has expired, meaning BoJack is no longer in it. She hangs up, leaving BoJack confused as to what happened as the party guests countdown to midnight.
Judah comes in Princess Carolyn's office, and she reveals BoJack didn't get either movies he tells her they're going to have to cut costs. She yells at him in frustration, yells at Judah out of frustration. She apologizes, and tells him to just go home. He wishes her a happy new year as he does. Princess Carolyn looks out the window to watch the fireworks. She gets a call from BoJack, but hits decline, as she sighs.
In Best Thing That Ever Happened, Princess Carolyn meets with BoJack at Elefanté. She admits Princess Carolyn admits she knows she lost both the Kelsey and Pegasus films and Ethan Around for him, but she assures him not getting the roles will be the best thing that's ever happened to him. BoJack is obviously not pleased with her failures, and, after she attempts to stall their conversation, he fires her and leaves.
She follows him outside and angrily asks him if Ana gave him this idea, but he tells her that she had nothing to do with it. BoJack tells her she screwed up, but Princess Carolyn points out that it was once in twenty-three years.
She goes on to rant about nobody wanted to work with him and how everyone told her to leave him, but she stayed with him and still got him jobs, despite the fact he would always flake, sabotage them, or get wrapped up in some crisis or vague sadness. Princess Carolyn admits that BoJack is right and thanks him for firing her. She heads back into the restaurant but BoJack follows her back inside.
At the bar, BoJack claims all she does it make him feel like a bad person, and she only likes solving his problems because it makes her feel good about herself. She angrily says all he's ever done is make her rescue him and make her listen to him complain.
BoJack scoffs at her "abuse," and then blurts while mocking her insulting him "BoJack you wasted my thirties!" Princess Carolyn says she never said that, but BoJack claims she said it with her actions, and she makes him feel bad about himself. Princess Carolyn asks if that's the reason he's firing her, and BoJack says it's a lot of reasons.
Princess Carolyn walks away and tries to reassure herself in the bathroom. BoJack walks in and tells her this wasn't an easy decision for him, and admits he talked with Ana about it because he values her opinion. This infuriates Princess Carolyn, and she tackles BoJack and they start having a physical fight around the restaurant.
BoJack gets her to stop and tells her that this is what he means by her being unprofessional. She angrily says she'll talk professionalism with him. They move their conversation to the meat locker. Princess Carolyn angrily tells BoJack he doesn't want professionalism, just a "mommy" he can have sex with. BoJack says that he doesn't want to be around her because she makes him feel like a terrible person. She argues back he's such a self-pitying masochist that she can say ten nice things and one mean thing and he'd only hear the one mean thing. BoJack accepts this challenge.
Princess Carolyn tells him he has a natural charisma, and he's loved by millions, but BoJack scoffs these off. In the meantime, the restaurant staff quit and they have a food critic. The only waiter left has no idea how to cook. Princess Carolyn continues her compliments, saying number six is that he makes her laugh—but BoJack scoffs at this too. She laughs, and BoJack asks how she ever put up with him. Princess Carolyn says she didn't, she liked being with him and doesn't regret their relationship.
BoJack says that he's doing this for the both of them. Princess Carolyn asks if he ever loved her, but BoJack tells her that he doesn't do the love thing because you either hurt them or they hurt you. Princess Carolyn says she does this to herself and she doesn't know why. BoJack suggests that when you're good at putting out fires, you just run from fire to fire without thinking.
Suddenly, the waiter opens the meat locker door and reveals that the kitchen, and himself, are on fire. They manage to put the fire out, but everyone has left, due to everything being on fire, except for the food critic, who is still expecting her mushroom risotto. Princess Carolyn says she knows how to make it, but BoJack tells her to go home. She realizes she should, and tells BoJack good luck. However, she ends up turning her car around back to the restaurant.
When she returns, BoJack says just because she's helping him doesn't mean he's obligated to not fire her, and she retorts back she knows he has no sense of obligation for her. As she makes the risotto, he asks her how she knows how to do this. She reveals her mom was a live-in maid for a rich family who loved Italian food, but since her mother was an alcoholic she would often have to cover for her so they wouldn't be homeless.
BoJack asks why she never told him, she says she has, but she knows he never remembers anything. BoJack claims he remembers the first time they met, she was working for Marv, and when he saw her he thought she was cute, and she said "Hey! It's nice to see you again!"
This makes BoJack realizes this wasn't the first time they met. Princess Carolyn tells him the first time she met him was when she was still an intern and she had to drop scripts off at his house. She found him on his front lawn covered in tapioca pudding, and she hoses him down, dragged him inside, and covered him with a blanket.
BoJack thinks it's impressive she went from the daughter of a maid to the head of her own company. Princess Carolyn says the company isn't doing so great, but BoJack tells her not to guilt him. She tells him it isn't his fault, she didn't realize being an agent and running an agency are two different talents.
He asks why she's an agent at all if it makes her miserable, and she says it's what she's good at, and she doesn't know what else she would do. BoJack then tells her that he does love her or, as much as he is able to love someone.
They serve the critic, but despite liking it she tells them that she's going to give them a bad rating because she had to wait two hours for her food. However, she's only a critic for a blog on Tumblr so BoJack kicks her out.
BoJack and Princess Carolyn share a drink at the bar. Princess Carolyn tells BoJack the second time they met was after a taping of Horsin' Around, where Olivia put too much detergent in the washing machine, and Nancy Regan guest-starred. She went back estate to introduce herself, but BoJack told her he was tired from pretending to be nice all night, and to leave him alone.
BoJack says he's a real jerk. Princess Carolyn agrees, but he still has many other great qualities to him, and she lists off multiple of them. For her final compliment, she says he let her help him tonight because he knew she needed it. BoJack says she's a good friend.
Princess Carolyn then begs BoJack to not leave her, to give her six months and then he can leave, and she'll never ask anything from him again. She asks what he thinks. BoJack says no.
In It's You, due to BoJack's absence and her previous losses, Princess Carolyn is forced to close VIM. She fires Diane as a result. Diane is unaffected and thankful to be a part of her company. Princess Carolyn, in return, tells her it was an honor to work with her.
Judah advises Princess Carolyn to use this opportunity to restart her life.
She calls Ralph Stilton, who admits he hasn't stopped thinking about her, and the two agree to a date.
In That's Too Much, Man!, BoJack, with Sarah Lynn, tries to make amends to the people he's hurt while on a bender with her. Her goes to Princess Carolyn's apartment building and tries to make amends by standing outside her apartment building on the roof of his car and screaming that he's sorry.
Princess Carolyn sighs, but is then accompanied by Ralph, who appears to be staying with her as he is in pajamas. The two smile at each other, and Ralph leads her back inside while looking over his shoulder and glaring at BoJack.
In That Went Well, Princess Carolyn is enjoying her time off of work with Ralph, who has recently been on a trip to Egypt with her.
They have dinner with Diane and Mr. Peanutbutter. There, he reveals he owns a greeting card company—but his family owns Stilton Hotels, which provides him with free residency when traveling, and makes him extremely rich.
Princess Carolyn then tells Diane she should work for his sister, Stefani's, website GirlCroosh. However, when Mr. Peanutbutter talks on the phone with his new agent, Princess Carolyn gets frustrated at the way he's handling deals, and is distraught that he's getting so many offers after she had to close her agency.
When she and Ralph return to her apartment, he tells her it was smart of her to tell Diane about GirlCroosh, and that she's good at making connections. He says that's probably why she was such a good manager, but Princess Carolyn corrects him that she was an agent.
However, this gives her an epiphany, she should be a manager. Ralph thinks that's the same thing, but Princess Carolyn says an agent helps a client find jobs, but a manager helps manage a client's career. Ralph still thinks that's the same thing, but he still supports her. Princess Carolyn exclaims she's going to be a manager.
She is shown reopening VIM as a management company.
Judah recounts her plans for the day and tells her that someone is trying to contact BoJack Horseman. He has no idea how the person got the number, and it sounds like it's a teenage girl.
Princess Carolyn tells Judah to tell her she doesn't work for BoJack anymore, as she relaxes in her chair. Judah hangs up the call. It is revealed who was on the other line: a female teenage horse who bears a bit of resemblance to BoJack, and who appears to be sad at not being able to contact him.
In See Mr. Peanutbutter Run, Princess Carolyn is having a much more successful time running VIM as a management company, and she and Ralph are still going strong.
She agrees to support Mr. Peanutbutter in his run for governor. However, when Judah tells her about FX's biopic about Sarah Lynn, and mentions BoJack, she starts throwing up.
She later meets Ralph for dinner, where he asks her to move in with him. She says it's a bad time to do so.
At Rock the Slope, Princess Carolyn tells Ralph she does what to move in with him, and reveals on the day he first asked she was pregnant, but she had a miscarriage.
Ralph isn't upset, however, and tells her he would love to have a baby with her.
In Hooray! Todd Episode! Todd arrives at Princess Carolyn's office, where Princess Carolyn tells Todd about Courtney Portnoy's new movie, Ms.Taken. Princess Carolyn tells Todd that Courtney's image is currently lacking support from the common folk, and asks Todd to go on a date with Courtney for the paparazzi to get some pictures. Todd mentions a meeting he planned on attending later that day but reluctantly agrees.
After their date goes haywire, Princess Carolyn calls and tells Todd he still needs to get pictures with Courtney. Todd quickly finds Courtney, and the two have a brief discussion. Todd reveals he won't attend a meeting he has later that night before the paparazzi catch them. Courtney tells the paparazzi that the two of them are engaged.
In Commence Fracking, Princess Carolyn and Ralph visit the gynecologist, who reveals Princess Carolyn is ruining out of eggs. He gives them a kit to help her get pregnant, including a watch voiced by Harvey Fierstein that tells her when she's ovulating.
Princess Carolyn and Ralph are at lunch when the watch tells her that her ovulating window is closing. Princess Carolyn insists that they leave so that they can go have sex.
He wants to wait and pay the check but she's impatient and wants to leave now or else her son Philbert will never be born. Ralph tries to speed home but they get stopped by Officer Meow Meow Fuzzyface for speeding. He arrests them after hearing Princess Carolyn's watch talk, thinking they were hiding someone in their car. As Ralph has really good lawyers, they decide to have sex in the backseat cop car.
In Thoughts and Prayers a streak of mass gun violence threatens the release of Courtney Portnoy's new movie Ms. Taken which has a lot of gun violence. So Princess Carolyn calls a PR campaign to minimize the effects of recent mass shootings on Courtney Portnoy's new movie. To keep things smooth, Princess Carolyn calls Diane to make a blog about Courtney's movie over dinner.
In Stupid Piece of Sh*t, she is forced to team up with Rutabaga to plan Courtney and Todd's fake wedding. They come across a conundrum when it is announced Meryl Streep is retiring and that her party is the same day as the wedding. They try to come up with a plan to have her postpone it, and they devise a plan to pitch her a film that she could direct and play all of the parts in.
They successfully get her to agree by trapping her in a box with the contract underneath it.
However, the whole plan fails when Todd decides he doesn't want to go through with it anymore, as it would all be a lie. Princess Carolyn accepts, and after he hangs up tries to figure out how to spin this.
However, Rutabaga says that they'll deal with it in the morning and that he has to go home to his family. Princess Carolyn begrudgingly accepts, and Rutabaga laughs at her reaction and said it's a good thing she's not a mother, because she would be hilarious at it.
After he leaves, Judah comes in and tells her that people like Rutabaga are the reason he left his previous big agency. He assures Princess Carolyn that she's different from those people, and she would be a wonderful mother. Judah leaves, and Princess Carolyn goes in her purse and pulls out a plastic bag that contains a pregnancy test that reads positive. She smiles and holds it close to her.
In Underground Princess Carolyn attends Mr. Peanutbutter's fundraiser dinner for his campaign. She asks Diane if there are any other bathrooms because all of them are occupied. She has to pee, but makes it clear that it's not because she's pregnant, because if she was pregnant it would be bad luck to announce it that early. Diane tells her that there is a bathroom in the pool house.
Due to Mr. Peanutbutter's fracking under his house, an earthquake causes his house and property to collapse in a sinkhole. Joined by Todd, who was taking a bath in the pool house bathtub, Princess Carolyn decides she's not going to wait to be rescued and walks down a dark tunnel.
As they walk down the tunnel, Todd hears something scuttling, but Princess Carolyn tells him to just keep walking. Todd complains that he doesn't have a home anymore, but Princess Carolyn tells him that he can crash at her place, saying that even though she moved in with Ralph she still kept her old apartment "just in case."
Suddenly, they are surrounded by ants, all of whom are dressed in armor. When Todd says Princess Carolyn's name, they pause and ask if she's a princess. She says it's just her name, and that she's a manager. The lead warrior ant says that she can be of service and takes them away.
Princess Carolyn helps the ants negotiate a deal with their queen, Queen Antonia, that would let them have sex with her drones. However, when they learn Princess Carolyn and Todd are from the above ground, they voice their disdain for the "above grounders" and the Queen orders them to be taken away.
The ants save the trapped guests in the house by living it to the surface, as they want them out of there.
In The Judge Princess Carolyn meets Ralph's family, and becomes uncomfortable by their racist traditions against cats for The Feast of St. Squeakvas. While initially hesitant at first, Ralph sticks up to his family and tells them he loves Princess Carolyn and they're having a baby and he couldn't be happier.
However, in Ruthie, Princess Carolyn has potentially the worst day of her life. Courtney Portnoy fires her due to the failings of Ms. Taken and her and Todd's sham wedding, she miscarries again and is told it's very unlikely she can get pregnant again, her necklace breaks and when she tries to get the clasp fixed.
She, initially believing it was a priceless family heirloom from the old country, learns that it is actually worthless costume jewelry from JC Penny, and she fires Judah after learning he went behind her back the previous year and denied an offer from Charley Witherspoon to merge agencies.
She doesn't know how to tell Ralph the news about the miscarriage, so she excuses herself from their date, but instead of going to Ralph's house, she returns to her old apartment, only to see Todd's Clown Dentist practice at work.
Later that night, she drinks heavily at a party with Todd and the clowns when Ralph comes over. An argument happens with Princess Carolyn revealing the miscarriage, and adding in the reveal that this is the fifth one she had throughout her life.
While Ralph wants to try and look for other options to have a baby, Princess Carolyn, feeling as if she failed at being his "easy" girlfriend and refuses to give up on trying to get pregnant herself, breaks up with him.
Throughout the episode, Princess Carolyn's eighth great-granddaughter, Ruthie telling her class about her and her horrible day—promising the story will have a happy ending. However, at the end of the episode, when BoJack calls Princess Carolyn to tell her about the "horrible" day he had, she tells him that whenever she has a bad day she imagines that her future descendant is talking about her in class. While BoJack mentions that all of that is fake, she sadly notes that it makes her feel better.
In Lovin that cali lifestyle!! Princess Carolyn has been drinking heavily due to the events of Ruthie. She is called back into work for a meeting with an inspiring writer, Flip McVicker, but while she is ready to shoot down his TV show premise, she changes her mind when she sees the script and that the title is Philbert, which was going to be the name of the baby she miscarried in the previous episode.
Now determined to get the project green lit, she asks Todd to get a meeting with her with Lenny Turteltaub before passing out. Deciding to use it as an opportunity to practice, Todd and the clowns manage to get Princess Carolyn to her meeting with Turteltaub. Turteltaub suggests that she pitches the show to WhatTimeIsItRightNow.com, but when he asks who was the actor playing Philbert, she told him she didn't have a lead actor yet.
He tells her he won't pick it up unless she had a lead actor. She quickly listed multiple actors, but Lenny isn't interested in any of them. She then blurts out BoJack Horseman's name, who Lenny thinks would be perfect for, although he ran out on both Secretariat and Ethan Around. He tells Princess Carolyn to make BoJack sign a contract to finish the deal and to ensure he won't run off again.
In What Time Is It Right Now Princess Carolyn is at the What Time Is It Right Now.com office pitching Philbert as an online series. After describing the plot, the executives approve the show especially happy that BoJack Horseman is the lead, though Princess Carolyn is feeling guilty that she had to forge BoJack's signature and he is unaware of the show.
Princess Carolyn's assistant brings her home as she went on another drinking bender, and Todd brings her into the woods and ties her to a dentist chair to tell her to get herself together. Princess Carolyn, however, laments that when they find out that she forged BoJack's signature, the deal will end and her reputation and career will be over and she will be left with nothing.
Todd tells her that the woods are dark and scary, but the only way out is through, lifting her spirits. 
BoJack is back home as Princess Carolyn comes by. She reveals the truth about her actions, but BoJack agrees to do the show, which Princess Carolyn is thankful for. The two then converse over what has happened in the past months, with BoJack suggesting that Princess Carolyn should consider adoption because the world needs more good moms. Princess Carolyn decides to go with that suggestion and leaves with their friendship restored.
Princess Carolyn is seen acting as the producer on BoJack's new show, Philbert.
She also begins the process to adopt a baby, going to an adoption agency and paying $60,000 after getting a heartfelt pep talk from the lady she meets with. However, she gets duped and stuck with a lazy, rude caseworker named Tracy.
She at first has no luck finding a birth mother, and Tracy is still acting rude. During this, BoJack is having misgivings about the show and it's writing.
\When he implies this to Flip, he tries to force BoJack to do a nude scene. BoJack drags Princess Carolyn outside the adoption agency and tells her that he never wanted to do this show, and he doesn't like his character, Philbert because he's a drunk asshole. Princess Carolyn explains to him that it's just a character and that he can take off the character at the end and just be BoJack, and to do this for ten more weeks for her.
In BoJack the Feminist, she decides to cast controversial actor Vance Waggoner as Fritz, Philbert's partner. While having dinner with him, where he reveals to her he's getting a Forgivie, She tells him as soon as word gets out he's on Philbert the offers will start rolling in. However, when she, Diane, and BoJack attend the Forgivies, BoJack makes a disgusted face when Vance accepts his Forgivie, due to smelling bad cheese.
The media interprets this as BoJack being offended by Vance being forgiven. Princess Carolyn has him go on The Squawk in order to clear things up, the hosts don't really let him speak, but he ends up taking a stand against Vance due to the positive reception it gets.
This angers Princess Carolyn, but after she calls Vance and he tells her he's not doing Philbert anymore since he did indeed get better offers and his new-found feminist views, she tells BoJack they're gonna take Vance down.
In The Amelia Earhart Story, Princess Carolyn returns to her hometown in Eden, North Carolina, to meet with Sadie, a pregnant eighteen-year-old who unsure about keeping her baby. During her visit, Princess Carolyn is forced to remember painful memories from her teen years of having to cover for her alcoholic mother at her job, and almost having her whole life planned for her after getting pregnant, only for her to have a miscarriage.
She also has to deal with incessant phone calls from BoJack, Todd, and Diane about a production stunt for Philbert, which she deals with by sweet talking them in front of Sadie to not make it seem like her career would get in the way of raising a baby, all while trying to convince Sadie she's the right candidate to adopt her baby.
The stunt on Philbert goes awry, and BoJack ends up falling off a building and landing on a car, severely injuring his back. Princess Carolyn tells Todd she'll hook him up with a special doctor who'll give him drugs that'll heal him fast enough so he can get back on set as soon as possible. At the same time, Sadie's boyfriend Strib announces to her at her family potluck that he wants to raise the baby with her.
The next day, Princess Carolyn tells Sadie to not fall for Strib's sudden proposal saying she herself has known and dated many "Stribs" throughout her life and that Sadie is too special and intelligent to fall for the first teenage boy who says, "he loves her, or whatever." Sadie then defensively says Princess Carolyn doesn't know her Strib. Then, Sadie begins to confront Princess Carolyn about being manipulative to her and her clients and treating her baby and the adoption like a sales pitch.
Princess Carolyn tries to explain herself saying she cares about her baby more than anything, but Sadie retorts back she thinks she's better than her because she left and is a fancy show business person, and is just upset she can't always bullshit her way into getting what she wants. Sadie also observes how Princess Carolyn is manipulative to every person she interacts with on her phone and calls her out on her shallowness. Princess Carolyn does not deny what Sadie is saying but tells Sadie to do what she wants with the baby but for her to make the decision, not anyone else.
Princess Carolyn returns to outside the mansion her family used to work for, which is now long abandoned and depleted. She gets a call from the adoption agency and learns that Sadie wants to keep looking elsewhere for adoptive parents for her baby.
Princess Carolyn is at the airport when she gets a call from BoJack. She tells him that she's on her way home and that she'll check on him. BoJack is happy because the accident made him everyone's favorite guy again, and the drugs they gave him worked wonders.
In INT. SUB, Princess Carolyn's bud to get an office on the Philbert set is jeopardized when Todd accuses her of taking the last string cheese. They call in Mary-Beth, a mediator, to mediate their argument. She fails to do so, however, and the argument develops into what is and isn't fair game in the apartment.
Later, Mary-Beth calls Todd when she realizes that Princess Carolyn was on set all day when the string cheese went missing Todd tells this to Princess Carolyn and admits that he wanted this to be a work dispute so she wouldn't kick him out.
Princess Carolyn tells him that she likes having him here, but she also needs her own space. He says he wants to help her pay rent and agrees to give her an office on site. He goes in his jacket for his pen but finds the missing string cheese instead.
At BoJack's annual Halloween party in Mr. Peanutbutter's Boos, Princess Carolyn is once again stuck on door duty, and dressed as a pilot for her childhood hero, Amelia Earhart.
In Ancient History, Mr. Peanutbutter visits Princess Carolyn at VIM and tells her that since season one of Philbert has wrapped, he wants to auction a greeting card, which says "Happy Birthday Dad" with a father dog and his kids, for a movie—"Birthday Dad." Princess Carolyn is understandably confused, but says that she'll look into getting the film rights. However, she realizes that she's going to have to talk to Ralph again as the card was made by Ralph's company.
While at dinner with Ralph, where they both reveal to each other they're still single, Princess Carolyn gets a call from Tracy saying a woman at the hospital doesn't want her baby, and she has to get there in half an hour. Princess Carolyn starts to panic, but Ralph calms her down and tells her he'll drive her and take the car seat with them.
On the car ride there, Ralph tells her he can't believe she's adopting, because she was so adamant about having the baby herself even though he actually suggested adoption, and she only decided on it after they broke up. Princess Carolyn apologizes, but Ralph apologizes for saying that and says she'll be a great mom. Princess Carolyn in return says someday he'll be a great dad.
At the hospital, they talk about their breakup, and how Princess Carolyn wanted Ralph to call her after they broke up. Ralph said he assumed she didn't want to talk to him, and she told him to get out of her apartment. Princess Carolyn jokes that the lesson of this is to never listen to her.
Princess Carolyn is later seen cradling the baby. The birth mom, Bridget, says she was nervous and felt guilty about adoption, but she's happy that her son is going to a good family, thinking that Ralph and Princess Carolyn are together. Ralph agrees with what she said, but Princess Carolyn tells him not to lie.
Ralph says he wants them to be a family, because they wanted it a year ago and he still wants it. However, Princess Carolyn tells him that she's ready to do this by herself raising and loving the baby will give her the power to do so. Unfortunately, this inspires Bridgette to want to raise the baby on her own, so she asks for the baby back.
Dejected, Princess Carolyn takes a taxi home. Before it arrives, she reluctantly lets Ralph wait with her.
In Head in the Clouds, before the Philbert premiere, Princess Carolyn has to deal with two writers, Ziggy Abler and Abe Ziegler, who refuse to sign a release for jokes the Flip plagiarized from the Popsicle stick jokes. She gets the two of them to reconcile and sign the release.
Philbert is a huge success, and filming for Season 2 begins in The Showstopper. However, ever since his accident in The Amelia Earhart Story, BoJack had become addicted to the opioid painkillers he was given by the doctor Princess Carolyn hooked him up with. Throughout the episode, BoJack's painkiller addiction becomes so bad he constantly swallows up to bottles worth of doses at once. He keeps hidden stashes of them around his house, and he begins to have trouble distinguishing reality from his show Philbert.
At one point, Princess Carolyn visits him in his trailer and warns him to keep it together and not ruin it like he always does.
She shows concern when BoJack takes more of his painkillers, and BoJack bitterly tells her he needs them ever since he fell off a building due to her negligence of being away from set that day, and sarcastically tells her she'll be a great mom.
She tells him to take the night off, because he's being a jerk and that when he returns he better be courteous and have his shit together. He agrees and apologizes for the mom comment, but she just angrily tells him to get some sleep.
BoJack becomes paranoid about the show secretly being written about him, especially he gets a note saying "You Did A Bad Thing And I'm Going To Tell," forgetting this was actually a promo flyer for Philbert based on a scene he was too high to remember to have shot. He tries to get to the bottom of it, fearing it'll ruin the show for Gina. He begins to believe the show was created to reveal his secrets.
At the end of the episode, while filming a scene where Philbert strangles Sassy, BoJack, high on pills, nearly strangled Gina to death for real and had to be forcibly removed from her.
The following episode, The Showstopper, has Princess Carolyn being tasked with covering this incident up to make sure it doesn't hurt the show, or Todd will have to pull the plug to cut losses. She plans to set BoJack and Gina up a fake interview with Biscuits Braxby to tell everyone nothing happened.
However, before this, she gets a call from Sadie, who is in the hospital in labor. Sadie asks Princess Carolyn how fast she can get to Eden and tells her that her boyfriend left her, her mom stole her truck, and she wants to give her the baby. A flustered Princess Carolyn tells Sadie it's all happening so fast and tells her she'll have to call her back. However, Sadie warns her if she isn't here by the time the baby is born she's giving it to someone else.
While sitting down with him on his deck, Princess Carolyn learns BoJack has no memory of what happened the previous night. She explains that Gina got injured, footage of it got out, and some people may have the impression that he was trying to hurt Gina.
Princess Carolyn says that he and Gina are going to have a sit-down interview with Biscuits Braxby and talk about the incident, and Gina and BoJack will convince Biscuits they were just doing their job as actors-nothing more, and nothing less.
She then apologizes to BoJack for the show getting messy and not looking out for him enough, but BoJack says he can take care of himself, and she has a lot on her plate. Princess Carolyn assumes everything will be more settled once she gets a baby.
Later, before the interview, she shows BoJack the video of him strangling Gina.
On the set of the interview, Princess Carolyn gets bombarded by Tracy from the adoption agency. Tracy asks her why she isn't in North Carolina getting her baby. Princess Carolyn tells her that she needs to handle the PR problem first. Afterward, she'll catch the first plane to North Carolina. Tracy tells her if she's too busy for a child, she won't give it the attention it deserves. She knows what it's like because her own mother worked all the time, making her feel all alone, and she never met her dad or twin brother, because their parents separate when they were babies, leaving her with half of a gold medallion.
Stuart interrupts her saying her story is boring—who hasn't been separated from their twin and still wears their half of a medallion. He then reveals he wears the matching half to Tracy's medallion but they don't catch on to the fact they could be long-lost siblings. Tracy tells Princess Carolyn that her point is not every woman is meant to be a mom, and maybe she should just live her life. Princess Carolyn starts freaking out, and orders Tracy to leave as the interview is about to start.
After sexual allegations against Henry Fondle force WhatTineIsItRightNow.Com to scale back, Philbert gets canceled. When Princess Carolyn and Flip are told this news, Flip tries to figure out another place they could air Philbert. However, when he turns around, Princess Carolyn is gone, having left for Eden.
Towards the end of the episode, Princess Carolyn is finally seen holding her baby, a porcupine girl. Sadie asks her what she's gonna name her, and a love-struck Princess Carolyn replies, "Untitled Princess Carolyn Project." Sadie replies, "But not really, right?"
Relationships
Episode Appearances
Being one of the five main characters, Princess Carolyn has appeared in every episode except:
Trivia
She is one of the two characters to attend UCLA, the other being Miles the Intern.
Originally, Mr. Peanutbutter was going to be BoJack's agent, being described at that point as "easy going and smooth talking," and a human female named Chelsea would have been BoJack's on-again off-again ex-girlfriend, who was "high strung and high maintenance," and dumped BoJack because he wouldn't have a baby with her after she wasted her twenties on him, but they keep sleeping together.[2]

Eventually, Mr. Peanutbutter became BoJack's frenemy and former sitcom rival, and the agent and Chelsea characters became Princess Carolyn.

She has had five miscarriages throughout her life.
She spoke with a southern accent when she lived in North Carolina.
She has a knack for alliterations and tongue-twisters, and uses them in her everyday speech as a running gag in the show.

Amy Sedaris, Princess Carolyn's voice actor, actually hates saying the tongue twisters, which is the reason she has to say so many of them, and why Courtney Portnoy's name was created.[3]

Princess Carolyn's personal hero is Amelia Earhart.

She dresses like her every year for Halloween.

Like BoJack, Princess Carolyn also hates honeydew, calling it "garbage fruit" in One Trick Pony.
Princess Carolyn's desire for a child is ironic, as her voice actress, Amy Sedaris, has admitted to being uninterested in parenthood.
Princess Carolyn seems to love cat related media, as shown by her many posters in her apartment and her Cats ringtone.
She has a poster for the Arnold Schwarzenegger movie Junior in her apartment, which has never been brought up.
Despite being promoted from intern to secretary to agent at Vigor, she continued to water the plants until she left in Out to Sea.
Her favorite movie is Jerry Maguire.
References
↑

BoJack Horseman 2019 Wall Calendar: The Art of the Art

↑

BoJack Horseman: The Art Before The Horse
Community content is available under
CC-BY-SA
unless otherwise noted.