Prickly Muffin, is the lead single from Sarah Lynn's debut album, I Am Sarah Lynn.
Music Video
The song's accompanying music video was directed by D. LaChapelle. It starts, with Sarah Lynn laying seductively on the floor of a planetarium, where she moves between erotic poses.
Then suddenly she is on tarmac, with the space shuttle behind her, with background dancers dressed in sexy attire wearing astronaut's gloves and a helmet.
Following, the dancers are then with Sarah Lynn in the rotunda of the planetarium both playing keytars. A wide shot of the tarmac with Sarah Lynn on her side, as now only a single dancer, plays a keytar behind her, and the space shuttle behind the dancer.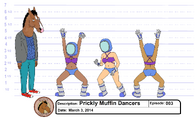 The final shot, Sarah Lynn is singing while hanging onto the point of the space shuttle, as it speeds through space.
Lyrics
Why don't you touch
My prickly muffin?

My prickly muffin
Ooh, it's prickly

And it's muffin, and it's
It's ready for your stuffing.
Trivia
Community content is available under
CC-BY-SA
unless otherwise noted.