Wiki Targeted (Entertainment)
Play Sound
Karen Kitada is a minor, recurring character in BoJack Horseman. She is the Showrunner of Birthday Dad.
She first is seen in The New Client, in Season 6.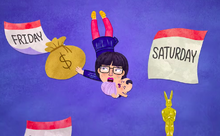 Physical Appearance
Karen Kitada is a human woman with her black hair cut in a bob and bangs going across her forehead, slight wrinkles, freckles on her nose and cheeks, and black rectangular-framed glasses. She wears a deep pink lipstick.
According to the model sheets, she is approximately 5 1/2 feet tall
She wears a navy and white pinstripe coat with a tie sash, pink dress pants, and gold pumps with buckles.
Personality
Little is known about her personality.
Background
In The New Client, Princess Carolyn is at VIM, when she gets a call from Amanda Hannity, asking why she is not at the shoot. Princess Carolyn tells Amanda she doesn't think she can make it. She then tells Princess Carolyn, that is too bad, as Vanessa Gekko is at the photo shoot. Princess Carolyn says it's fine if Gekko wants to promote her struggling business, however, she is too busy doing it all to pose for a photo for women who do it all.
Amanda then says sure, both she and Princess Carolyn know that. She questions though, whether the industry knows that. She then launches into a story about Karen Kitada, who is the creator of Med School Nights. Amanda says, Karen Kitada created two successful shows, Med School Nights and it's spin-off Med School Nights: Day Shift. Amanda then says everyone wanted to work with Karen Kitada.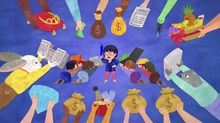 Karen Kitada took three weeks off work, due to having a baby. She wasn't offered the projects Tumbleweeds and Crickets, due to the studios being dubious about her priorities. Amanda then challenges Princess Carolyn, asking if she has her priorities in order. Princess Carolyn says of course she does. Amanda then tells her if nothing else, she should leave work, and participate in the photo shoot for Karen Kitada's sake.
Todd then meets with Pinky Penguin. Pinky tells Todd his company took a big swing with Dick Wolf's Milwaukee Show. He says it turns out audiences don't want to watch a whole night of Milwaukee, so now they have some slots to fill. Pinky then asks if Untitled Princess Carolyn Project can live for several seasons. Todd does not understand how those things are related, but he hopes so.
Todd then has Princess Carolyn drop off the baby at Pinky's office. He is surprised to learn it's a baby. Pinky tells Todd they need a show because they can't air a baby. He says they already designed the posters and promotional materials.
Todd tells Princess Carolyn on the phone that Pinky canceled the baby, but the network needs a show. This gives Princess Carolyn the idea to pitch Birthday Dad to Pinky. She tells him the pilot was directed by Flea Daniels and the show would be run by Karen Kitada. Pinky says the network will take anything.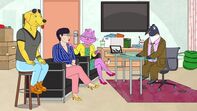 Filmography
Television
| Title | Role |
| --- | --- |
| Med School Nights | Creator |
| Med School Nights: Day Shift | Creator |
| Birthday Dad | Showrunner |
Episode Appearances
Trivia
In the episode The New Client, the chant echoing Amanda Hannity's "Kitada, Kitada, Kitada. Do it for Karen Kitada" can be heard in the background.
She does not have any dialogue in any of her episode appearances, most of which are on the set of Birthday Dad.