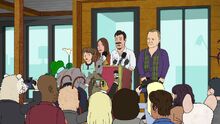 Jagger Waggoner is a minor, recurring character in BoJack Horseman. She is the daughter of Vance Waggoner.
She first appears in a flashback from 2012 in BoJack the Feminist, in Season 5.
She makes a present-day appearance in The Horny Unicorn, in Season 6.
Physical Appearance
Jagger is a human female with brown hair.
At age fourteen, her hair was tied back in a ponytail with bangs going across her forehead.
She was seen wearing a knee-length teal dress with a peter pan collar with dark teal trim and shoes.
As an adult, she is seen wearing a pink towel wrapped on her head, a teal bathrobe with darker teal trim, and a white undershirt.
Personality
Not much information is available on Jagger's personality.
Background
In BoJack the Feminist, during a flashback from 2012, Vance is shown being arrested, after trying to sexually harass a female police officer named Lindsay. The dash-cam footage shows him saying that he "hates Jews."
He later retracts that statement in The Deep Dive, which is a talk show hosted by A Ryan Seacrest Type. Vance has a Jewish friend, Mark Feuerstein, back him up on it by quoting the Torah—also because Vance apologized, and offered Mark a role in his new movie, Koufax.
It is revealed at the premiere of Koufax that he allegedly hit a prostitute with a baseball bat.
He later defends himself on Gotcha, the news segment on MSNBSea hosted by Tom Jumbo-Grumbo, claiming that he was only thirty-eight years old at the time—and that he respects women.
While he is on air, with a nasty message he left for his fourteen-year-old daughter Jagger via voice mail, which clearly described that he "hates women and Swedish people."
He then gives an interview with his family, saying he's leaving fame for good. He disappears into obscurity, until years later when Princess Carolyn reaches out to him to star in Philbert as Fritz.
In The Horny Unicorn, Vance then gets a text from his daughter and tells BoJack she's in trouble. BoJack sounding concerned asks what it is. Vance then asks BoJack to come with him to his daughter's college campus. BoJack tells him he doesn't want to go to a college campus seeing that he wants to keep a low profile right now. Vance then tells BoJack his daughter is the one thing keeping him sober and that he was there when BoJack needed him. BoJack finally says he's in.
Vance and BoJack head to Vance's daughter's college. Vance then yells out for his daughter Jagger. Jagger opens her dorm window and questions why her father is here. Vance then yells at her for liking one of her mother's Instagram posts with her new boyfriend.
A male student on campus recognizes BoJack and he walks off. Vance and Jagger continue to argue while the student tells BoJack he believes that BoJack got massively sandbagged in the interview with Biscuits. The student tells BoJack he recognizes he was trying to apologize and that the campus is a safe space. He then invites BoJack to come with him to the Delta house saying the guys there would be "super stoked" to meet him.
Vance approaches them and says his daughter sucks and he's ready to go. BoJack then says they should make one more stop.
BoJack and Vance are at a frat party when Vance says he wants to leave with a girl. Vance then tells him to relax and that he will call him tomorrow to set up The Horny Unicorn.
Trivia
Community content is available under
CC-BY-SA
unless otherwise noted.