Glamorous Mom
is a one-time character in
BoJack Horseman
. She and her child appear at the
Manatee Fair
photoshoot for "
Women Who Can Do It All
." Her only appearance was in
The New Client
, in
Season 6
.
Personality
It is not known what her personality is like.
Physical Appearance
She is a female kangaroo with brown and taupe colored fur and a patch of grey on her snout and small gold hoop earrings.
According to the model sheets, she is 5 1/2 ft tall.
She is seen wearing a white sweater with a front pouch, a gold necklace with beads, black leggings, and a pair of dark purple flats with white stripes and a slight heel.
.
Background
In The New Client, Princess Carolyn gets off the elevator at work with her daughter. She is seen doing various things around the office throughout the day.
Princess Carolyn then asks her assistant, Stuart to clear her schedule, as she needs to find a new nanny. Stuart then reminds her, about the Manatee Fair photoshoot, for the Hollywoo Women Who Can Do It All Issue. Princess Carolyn asks when the shoot is happening, and he tells her it is happening right now. Stuart tells her that he was supposed to remind her yesterday.
Princess Carolyn heads upstairs when she gets a call from Amanda Hannity, asking why she is not at the shoot. Princess Carolyn tells Amanda she doesn't think she can make it. She then tells Princess Carolyn, that is too bad, as Vanessa Gekko is at the photoshoot. Princess Carolyn says it's fine if Gekko wants to promote her struggling business, however, she is too busy doing it all to pose for a photo for women who do it all.
Amanda then says sure, both she and Princess Carolyn know that. She questions though, whether the industry knows that. She then launches into a story about Karen Kitada, who is the creator of Med School Nights. Karen Kitada took three weeks off work, due to having a baby. She wasn't offered the projects Tumbleweeds and Crickets, due to the studios being dubious about her priorities.
Amanda then challenges Princess Carolyn, asking if she has her priorities in order. Princess Carolyn says of course she does. Amanda then tells her if nothing else, she should leave work, and participate in the photoshoot for Karen Kitada's sake.
Princess Carolyn then phones Todd, asking him to take the baby for an hour or so, telling him she will meet him at VIM in fifteen minutes.
Princess Carolyn then arrives at the photoshoot. Once she gets there, she is told they were supposed to bring their kids with them. She then tells Todd to drop off her daughter at the photoshoot.
Princess Carolyn tells the other women, including the Glamorous Mother about the Birthday Dad project. The mother says that the project sounds incredibly masculine. Vanessa Gekko says the new "women who can do it all," is helping other women, not yourself.
Vanessa says the whole discussion is empowering, and Amanda suggests a type of low-key salon where women can exchange ideas. Vanessa says she can host and higher a caterer. Princess Carolyn blurts out she can co-host.
This suggestion, then turns into an event, hosted at the foyer at VIM. Gekko tells Princess Carolyn she'll handle all the big picture stuff, and leave the organization to Princess Carolyn, so no one steps on anyone else's toes. Amanda then thanks Princess Carolyn for stepping up to the plate.
The photographer then takes the photos, and Princess Carolyn gets stabbed by her baby's quills, as the picture is being taken.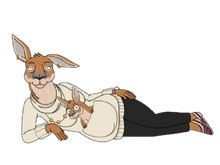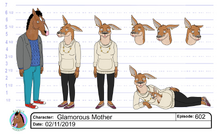 Trivia
She appears to have at least one child who is with her at the photoshoot.
Her actual name is never specified.
Community content is available under
CC-BY-SA
unless otherwise noted.