Felicity
Huffman's Booty Academy: Los Angeles
abbreviated as
FHBA: LA
is a show that parodies VH1 reality shows like
Flavor of Love.
It was filmed in late
2017.
Originally pitched as Felicity Huffman's Future Leaders of America before being retooled by the network, Huffman denies that it's a show about judging young women's butts.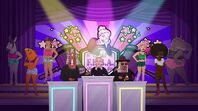 Trivia
BoJack Horseman becomes uncomfortable when he realizes what the real premise is, originally thinking it was yet another NCIS ripoff when he sees the initials FHBA.
There apparently is more than one season of this reality series, including FHBA: Atlanta and FHBA: Miami.

It is possible there are other editions as well though it is unspecified

Sir Mix-A-Lot is chosen to be a judge because he can not tell a lie.

The joke is a reference to his hit song "Baby Got Back" which has the opening line, "I like big butts and I cannot lie." And this is a show about judging butts.