Wiki Targeted (Entertainment)
Play Sound
Debra is a recurring character in BoJack Horseman. Her first and most prominent appearance was in Brand New Couch, in Season 2.
Physical Appearance
Debra is a young human woman with layered light blonde hair, that is above shoulder length, with bangs combed to the left side. Before her fall she had a fair complexion. She wears a deep burgundy lipstick.
After the accident, she had a tan skin graft stitched to her face.
According to the model sheets, she is roughly 5 1/2 ft tall.
She is seen wearing a short-sleeved red bohemian-style peasant blouse with white outlines of flowers on it, high waist blue jeans, brown belt with a silver buckle, and black ankle-length high-heeled boots. She wears a light green triangle pendant necklace.
Personality
Debra appears to be a young hard-working woman who is generally pleasant. Little else is known about her personal life.
Background
History
Debra is seen working as an assistant on various TV and movie sets throughout the series.
Debra's most prominent appearance was as an assistant on Brand New Couch. She was carrying a tray of hot coffee to deliver to the staff on the set of Secretariat and tripped over the cable running across the set.
It was Diane's job to warn people about the cable, but she was trying to provide character notes on Secretariat to Kelsey Jannings and was distracted. The coffee severely burned Debra's face.
She yells out angrily that nobody warned her the cable was in her path.
This results in her getting a new skin graft, that is tanner than her natural skin tone, which is a more fair complexion.
Despite this, it seems like she is able to carry on normal life and career, and has made peace with her new face.
She is seen working at Cabracadabra before all the employees were replaced by orca women in Best Thing That Ever Happened.
Debra is seen dragging BoJack Horseman by the arm into hair, wardrobe, and make-up on the set of Felicity Huffman's Booty Academy: Los Angeles in The Judge.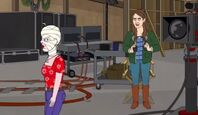 Debra is seen at the Halloween party dressed in 2009 as a witch and in 2018 as a handmaid (based on the novel by Margaret Atwood) in Mr. Peanutbutter's Boos.
In Head in the Clouds, Debra is seen taking a selfie in front of a cardboard cutout of Mr. Peanutbutter using the Philbert quote "Barf me a river, fartbag."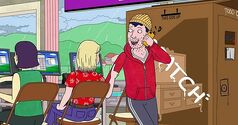 She is also seen at the bar at the after-party talking to someone.
Trivia
Her surname and personal information have not been given.
The voice actress for Debra also plays Kelsey Jannings.