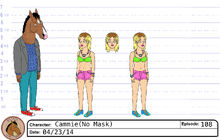 Cammie is a minor, recurring character in BoJack Horseman. She is a member of the Celebrity Stealing Club and known by the alias "Spring Breaker #1."
Her first and most prominent appearance was in The Telescope, in Season 1.
Physical Appearance
Cammie is a young female adult.
She has blonde hair with light brown roots above shoulder length, freckles on her face, arms, and stomach.
According to the model sheets, she is above 5 ft tall.
She wears a lime green bikini top and pink shorts and teal high-top sneakers with pink stripes along with a blue bracelet on her left wrist and dark blue and pink bracelets on her right wrist and an elaborate pink statement necklace with a blue stone in the center of a pink pendant.
Personality
Cammie is the pushier one out of the two girls. Little else is known about her.
Background
The Celebrity Stealing Club end up trying to use BoJack's van, as a get-away vehicle, after stealing several bags of "Kardashian swag" while BoJack is visiting Herb Kazzaz. Todd is left in charge of the van while Diane and BoJack are visiting Herb inside his house. She holds Todd at gunpoint, telling him to drive the vehicle, but Todd is unable to turn the car around and can't go anywhere.
Todd senses tension between the girls and tries to get them to open up about their feelings. When he lets his guard down, they flee the scene, knocking him unconscious.
Years later, they are seen stealing a painting from BoJack's house during his 2018 Halloween party.
The girls are seen again once more stealing a painting from the house party that BoJack and Jameson H. briefly visited after sneaking out of rehab in A Horse Walks into a Rehab.
Trivia
Cammie and Kenzie are both inspired by The Bling Ring, and the real-life events that led to the making of that film.
She is the older of the two girls.
Community content is available under
CC-BY-SA
unless otherwise noted.