For more information about how you can get started here,
please check the
Community Page!
Before you do anything else on the wiki, please check the
policies
that all users must follow!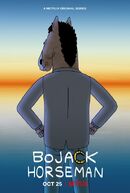 BoJack Horseman
is an animated TV series from
Netflix
, originally premiering on August 22, 2014. It follows
BoJack
, an anthropomorphic horse who used to star in the popular fictional 1990s TV sitcom
Horsin' Around
. Eighteen years later, BoJack's fame has dried up. The series tells the story of BoJack trying to rekindle his fame by writing a tell-all memoir, and also documents all the marvelous mishaps and strange situations he and his friends get themselves into in the fictional parody of Hollywood, "
Hollywoo
" (the letter "D" was destroyed in the series).


User Blogs
In season 6 the very significant use of the word fuck wasn't used on BoJack this season or any main character for that matter, it was used on Gina by her costar. Even more shocking is he reacted the …
Having watched the most recent episodes in season 6 and waiting until Friday for the rest of the season to release I can't help but be very nervous, on the brink of scared or frightened. I want Bojac…

Smv21
•
The Face of Depression
Surprise
The Stopped Show
BoJack Kills
Underground
Stop the Presses
Our A-Story is a D-Story
Live Fast, Diane Nguyen
See Mr. Peanut Butter Run
After the Party
Honorable Mentions:
Hooray! …
See more >