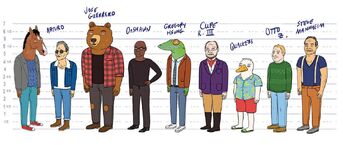 Arturo "Ice Man" Fonzarelli is one of Hollyhock's adoptive fathers.
Personality
Arturo is based on Henry Winkler's beloved and iconic character Arthur "The Fonz/Fonzie" Fonzerelli.
He is the coolest and most calm out of all the dads which explains why his nickname is "The Iceman". He's often seen with the other dads in arguments about Hollyhock's safety.
Design
Arturo is a middle-aged man with slight wrinkles on his face, spiky grey hair, and thick black eyebrows.
He wears a white scoop neck shirt, cuffed light blue jeans, brown work boots, a cropped denim jacket with a fur-lined collar, and a pair of sunglasses.
According to the model sheets, he is slightly above 5 1/2 ft. tall.