The Armadillo Lady
is a minor and recurring character in
BoJack Horseman
. She first appears
The Telescope
, in
Season 1
.
Physical Appearance
The Armadillo Lady is an old armadillo woman with spectacles perched on her nose.
According to the model sheets, she is roughly about 5ft. tall. Rolled up, she becomes slightly above 2 1/2ft tall, shrinking roughlyt 3ft.
She is seen wearing a white button-down long-sleeved blouse with a peter-pan collar, teal cardigan, maroon skirt, plum heels, and a purple ladies handbag.
Background
The Armadillo Lady is seen in The Telescope crossing the street, when BoJack nearly slams into her with his car. on his way to Malibu to see Herb Kazzaz.
She rolls herself into a ball, in order to avoid being hit by the car.
BoJack then honks at her angrily.
Trivia
Her real name is not given.
The scene where BoJack nearly runs her over in his car is shown in both Say Anything and The Telescope.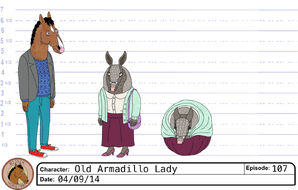 Community content is available under
CC-BY-SA
unless otherwise noted.