An Actress or Something is a female human talk show host along with A Ryan Seacrest Type and Some Lady on the show Morning Time Hollywoo.
Physical Appearance
An Actress or Something is an adult human woman with wavy sandy blonde hair that is shoulder length and tan skin. She wears a heavy light blue eyeshadow and deep burgundy lipstick.
She wears a deep V-neck dark green long-sleeved blouse tucked into a blue, brown, and white horizontal striped skirt, matching beaded gold chain necklace and bracelet on her right wrist and large gold hoop earrings.
Personality
Aside from being TV personnel like Some Lady not much else is known about her.
Background
An Actress is seen as the replacement for Some Lady after she is kidnapped.
In Out to Sea, she is seen covering the story of the orphanage named after Herb Kazzaz. The urn with Herb's ashes is put back together and put in the new orphanage, now renamed after Herb instead of BoJack. Unfortunately, the plaque reads "Jerb" instead of Herb, as the email BoJack sent apparently had a typo.
BoJack is annoyed at this and tells them to change it, although the owner refuses to change it because they spent a lot of money on the shirts and marketing already.
Todd points out to BoJack, that Herb probably would have thought that the misspelling was funny, and it would be considered hilarious BoJack couldn't even get this right. BoJack reluctantly says he's right and they agree to go get food.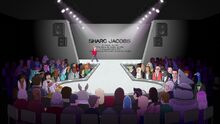 In Hooray! Todd Episode!, she is seen in the audience at the Sharc Jacobs fashion show.
She is seen at the surprise wedding party in Surprise! at Mr. Peanutbutter's house.
Episode Appearances
Trivia
Community content is available under
CC-BY-SA
unless otherwise noted.