Amelia Mary Earhart
was
Princess Carolyn's
idol growing up. This especially plays a huge role in
The Amelia Earhart Story
.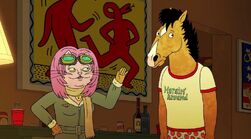 Background
History on the show:
In The Amelia Earhart Story Princess Carolyn's idol was Amelia Mary Earhart.
Princess Carolyn loved old movies as a little girl, and the only VHS tape her family owned was The Amelia Earhart Story. She loved this movie so much she knew the dialogue by heart.
This movie, along with having to cover for her drunk mother, gave Princess Carolyn her workaholic personality, along with her persistent attitude and the belief you must work and try hard to get what you want.
Real-Life History
Amelia Mary Earhart was an American aviation pioneer and author. Earhart was the first female aviator to fly solo across the Atlantic Ocean. She received the United States Distinguished Flying Cross for this accomplishment.
She set many other records, wrote best-selling books about her flying experiences and was instrumental in the formation of The Ninety-Nines, an organization for female pilots.
In 1935, Earhart became a visiting faculty member at Purdue University as an advisory to aeronautical engineering and a career counselor to women students.
She was also a member of the National Woman's Party and an early supporter of the Equal Rights Amendment.1
Resource
https://en.wikipedia.org/wiki/Amelia_Earhart1
Community content is available under
CC-BY-SA
unless otherwise noted.