A Ryan Seacrest Type is a recurring character in BoJack Horseman.
Physical Appearance
A Ryan Seacrest Type is a young adult human male with spiky sandy blonde hair.
According to the model sheets, he is roughly under 6 ft tall.
He is seen wearing a navy button-down collared shirt tucked into grey pants, with a brown belt, and brown boots.
Personality
A Ryan is an enthusiastic talk show host, who is an exaggerated version of the real Ryan Seacrest. Little else is known about him.
Background
History
A Ryan Seacrest Type is the host of Excess Hollywood (later Excess Hollywoo), and co-host (along with Some Lady) of Morning Time Hollywoo.
In Season 3 he is the host of Road to the Oscars.
In Brrap Brrap Pew Pew, BoJack runs him down with his limo.
He appears to have not been severely injured, as he is seen in See Mr. Peanutbutter Run with no visible injuries.
He is seen hosting the radio show The Deep Dive in BoJack the Feminist.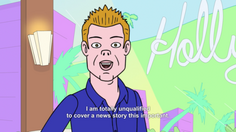 Trivia
His character is an obvious reference to the real-life Ryan Seacrest.
He was injured in Brrap Brrap Pew Pew after being accidentally struck by a limo driven by BoJack Horseman.

Usually, when a famous celebrity refuses to do their own voice-over on the show, an unfortunate circumstance will happen to their animated counterpart.
Community content is available under
CC-BY-SA
unless otherwise noted.